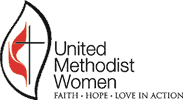 The United Methodist Women is the largest denominational faith organization for women in the world with approximately 800,000 members whose mission is fostering spiritual growth, developing leaders and advocating for justice. Here at the Heart of Longmont, we are:
Women with a heart for helping
Women who have fun and like to laugh
Young and we not-so-young and everything in between
Spiritual
Retired, career women and soccer moms
Women who want to know God and experience freedom as whole persons through Jesus Christ
Active within the church and community
An active part of the 800,000 United Methodist Women worldwide
United Methodist Women ~ faith, hope and love in action
There are 5 women's circles in our Heart of Longmont UMW Unit who meet on a regular monthly basis for fellowship and to keep up to date on current programs and missions. We have quarterly Unit gatherings where all Circles meet together and we also have weekly craft and exercise times.
Circles meet as follows:
Elizabeth Circle, 3rd Monday, 1:30 PM
Esther Circle, 3rd Tuesday, 9:30 AM
Lydia Circle, 2nd Monday, 7:00 PM
Martha Circle, 3rd Tuesday, 1:30 PM
Sarah Circle, 3rd Thursday, 9:30 AM
UMW 101
United Methodist Women, like The United Methodist Church, is a connectional system. The major links of United Methodist Women are:
The local group or "Unit" – UMW of The Heart
The district organization – Peaks and Plains District
The conference organization – Rocky Mountain Conference
The jurisdiction organization – Western Jurisdiction
The national office – in New York
All of these groups relate to one another in a variety of ways; each group is empowered to structure itself in ways that fulfill the PURPOSE, best use the gifts of its members and meet the needs of its community in the world. Every level of the organization is connected in mission with Global Ministries.
Our PURPOSE ~ United Methodist Women shall be a community of women whose purpose is to know God and to experience freedom as whole persons through Jesus Christ; to develop a creative, supportive fellowship; and to expand concepts of mission through participation in the global ministries of the church.
Are you willing to open your heart, mind and soul to make a difference in the life of another? Is your goal to be in mission for women, children and youth around the world? The Bible says, "And let us be concerned about one another in order to promote love and good works." Hebrews 10:14
UMW is an important organization for the world today – join us, your life will never be the same!
Connect with us on Facebook.