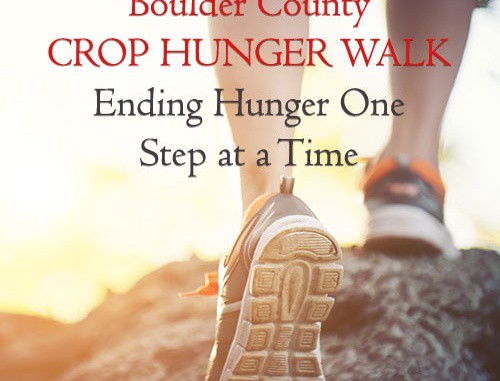 The Boulder County CROP Hunger Walk takes place every October as a part of a nationwide effort to raise funds to help alleviate hunger and poverty here in the United States and internationally.  The walk has been raising funds since 1985 and works to support the grassroots, hunger-fighting development efforts of Church World Service (CWS) around the world. This walk also helps to fund hunger-fighting programs such as Community Food Share serving Boulder and Broomfield counties as well as Bread for the World.
October 15, 2017 2pm
Start Location
The walk will begin at
First Congregational Church of Boulder
1128 Pine Street, Boulder CO 80302
Registration starts at 1:30 pm
The walk begins at 2:00 pm
For additional details please visit http://www.bouldercropwalk.org/about-us.
October 15, 2017




2:00 pm - 4:00 pm